Soup Kitchen Catering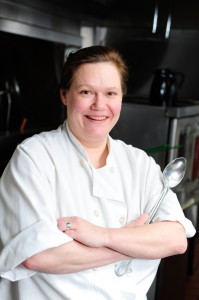 Let our 'make-from-scratch' chef help you with your next catering event. Chef Alison will custom design an event that reflects your personal tastes and fits your budget. Using local food, fresh produce….all with the philosophy of sustainability in mind…Capuchin Soup Kitchen Catering can supply:
Full menu selections
Station menus
A strolling buffet event
Whether you are planning a corporate gathering, church dinner, fundraiser or a special event for your family, Capuchin Soup Kitchen Catering will make it memorable.
When you partner with Capuchin Soup Kitchen Catering, you are supporting the soup kitchen's mission. All profits of our catering division go back to the soup kitchen's programs that feed bodies, nourish spirits, and strengthen communities. We strive to be mindful of environmental concerns by composting organic food waste, and by utilizing recyclable consumables and "earth-friendly" cleaning products. In all we do, we seek to build alliances with others who share a commitment to this vision. When you choose Capuchin Soup Kitchen Catering, you are investing in our community.
Contact Chef Alison:
Capuchin Soup Kitchen Catering
1264 Meldrum
Detroit, MI 48207-3435
313.579.2100, ext. 205
Catering Offerings
All of these fresh, made-from-scratch offerings are available through Chef Alison and her staff.
Entrees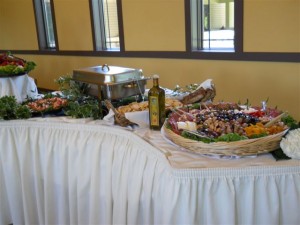 not limited to...
Short ribs braised in red wine
Roman style chicken breast
Cornish hens
Pecan crusted chicken
Raspberry chicken breast
Barley jambalaya
Shepherd's pie
Mussels arrabiatta
Chipotle blueberry chicken
Roast pork chausseur
Greek style lamb
Madeira braised lamb shanks
Sliced top round
Apple stuffed chicken breast
Brisket
Chicken or veal picatta
Veal or chicken marsala
Veal chop w/wild mushrooms
Citrus and tarragon salmon
Baked Aegean cod
Sole Florentine
Ask about our Vegetarian, Vegan & Gluten Free Options
Sides
"Stella" potatoes
Parslied potatoes
Lemon oil potatoes
Oven roast potatoes
Brown rice pilav
White beans with onion confit
Au gratin potatoes
Roasted seasonal vegetables
Grilled vegetables
Roast brussel sprouts w/mustard
Garlic green beans
Baby Belgian carrots
Ask about our box lunches & platters
Salads
House Salad
Bibb & radish w/buttermilk dressing
Sour cream & cucumber
Mesclun w/fried shallots & blue cheese
Orzo, spinach & feta
Traditional Caesar
Traditional Greek
Israeli couscous w/tomato & arugula pesto
Couscous, feta & pinenut
Mushrooms a la grecque
Marinated cucumber, tomato & red onion
Spinach fettucine, baby spinach, gorgonzola, balsamic vinaigrette
Iceberg wedge with blue cheese dressing & bacon
Ask about our Station Menus
Desserts & Snacks
Hand fruit
Cut fruit
Linzer brownies
Cream cheese brownies
Apple cobbler
Lavender shortbread
Fruit mousse
Panna cotta
Mini pastry trays
Chocolate covered strawberries
Pumpkin bread pudding
"Tollhouse" cookies
Ask about our breakfast menus
Appetizers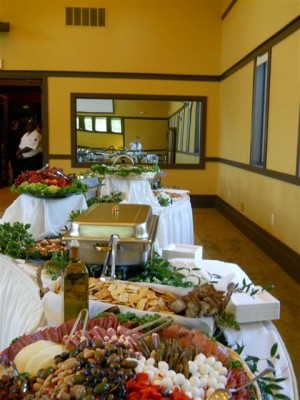 Goat cheese & herb stuffed radicchio leaves
Prosciutto wrapped mango w/arugula
Blue cheese, marscapone, and carmelized onion phyllo cups
Mini caprese bites: tomato, fresh mozzarella, basil on bamboo skewer
Mini potato cakes
Moroccan meatballs:ground lamb w/herbs & Moroccan spices w/tahini yogurt dip
Ale & rum soaked apricots stuffed w/gorgonzola, rolled in candied pecans
Asparagus wrapped w/smoked salmon
Endive boats filled with smoked salmon mousse, micro greens spritzed w/lemon
California rolls w/wasabi, ponzu & pickled ginger
Old English beef skewers served w/horseradish sauce & beer mustard sauce
Stuffed figs w/manchego cheese
Endive boats w/smoked turkey
Greek "salsa" w/flatbreads
Beef tenderloin crostini w/mushroom pesto
Farmhouse cheddar, chutney, sweet brioche rolls
Open face mini reubens
Carmelized pear w/gorgonzola on baguette
Tuna ceviche
Crab cake sw/lemon, caper aioli
Lollipop lamb chops
Assorted cocktail sandwiches
Watermelon gazpacho served in a shot glass
Farmers market spinach dip
Ask about what is 'in-season'
---
Thanksgiving Turkey Dinner Package
Our 'scratch chef,' Alison Costello, can make your Thanksgiving less stressful. This year, purchase your holiday meal from Capuchin Soup Kitchen Catering. Each dinner, serving 8-10 people, includes:
Fresh Roasted Turkey (Conventional sized, about #8-10)

*15-20 lbs. free-range turkey package is available for additional costs. Please see below for additional cost.

2 qts. Dressing
1 qt. Real Mashed Potatoes
1 qt. Gravy
1 pint housemade Orange & Cranberry Relish
1 dozen rolls
2 pies (Pumpkin, Apple, or Sweet Potato)
1 pint Real Whipped Cream
All this for $95.00 with proceeds going to the Capuchin Soup Kitchen.
*$150.00 for the Free-Range Turkey package.
Orders must be picked up Wednesday, November 22, between 1 PM – 5 PM, at the Meldrum Kitchen, 1264 Meldrum, Detroit, MI 48207 (Enter through the front doors).
Deadline to order is Saturday, November 18 at Noon (no exceptions).
To place an order, contact Alison Costello: acostello@cskdetroit.org or 313.579.2100, ext. 205.
Payable by cash, check, or money order.
Other Soup Kitchen catering options (i.e. appetizers, prime rib, lasagna, etc.) are not available from Nov. 15 - 28
---
Christmas Catering
Appetizer Platters
Mezze Platter: $100.00
Fruit Platter: $80.00
Smoked Salmon: $120.00
Grilled Vegetable: served with lemon aioli $85.00
Spinach Artichoke Dip Platter: comes with flatbreads $45.00
Antipasto Platter: $130.00
Salmon grav lox (house cold cured salmon) served with pumpernickel bread, onions, capers, chopped egg, cream cheese: 1 side of salmon $130.00 (1 week notice requested)
Chicken satays with thai peanut sauce: $22.00 per dozen (3 doz. minimum)
Meatballs, Polish, Swedish or Italian served in au jus: $40.00 (#5)
Mini spinach pies: $ 20.00 per dozen (3 doz. minimum)
Bacon wrapped scallops: $ Market Price
Vegetable spring rolls/sweet and sour sauce: $ 18.00 doz./3 doz. min.
Melon wrapped in prosciutto: $22.00 per dozen (3 doz. minimum)
Sesame chicken, spicy plum sauce: $ 22.00 per dozen (3 doz. minimum)
Cold Shrimp, lemons, cocktail sauce: Market Price
Vegetable crudite with ranch and blue cheese dips: $ 45.00 serves 15-20 people
Imported and domestic cheese tray served with seasonal fruit garnish, crackers and French breads: $ 70.00 serves 20-30
Lawash chips, sour cream, guacamole, & salsa: $4.50 per person
Deviled eggs: $18.00 per dozen (3 doz. minimum)
Pate' with accoutrements: $70.00

Mini quiche with assorted fillings: $18.00 per dozen (3 doz. minimum)

Grilled vegetable platter: $90.00 serves 25 people

Caprese Station: As a main item: $13.00 per person-price can be reduced depending on other hors d'oeuvres ordered

Sliced red & yellow tomatoes, fresh mozzarella, basil
Balsamic vinegar & Olive oil
Marinated white bean salad
Assorted grilled vegetables
Toppings: roasted eggplant & lemon, artichoke, pomodoro & caponata
Assorted olives and peppers
Shaved pecorino and parmesan
Grissini breadsticks and grilled sourdough
Specialty Platters
House made crab cakes: $19.99
Butternut squash, cranberry & quinoa salad: $7.99 lb.
Olive oil mashed potatoes & gravy (beef or turkey): $5.99 lb.
Prime Rib (Serves 6-8): $189.00

w/au jus & w/reheat directions

All cooked med. rare (4 lb.)

1 qt. Mashed potatoes

2 qts. Sage stuffing

French green beans & carrots w/garlic butter

1 dozen Brioche rolls

1 qt. Au jus

Horseradish sauce

1 Pumpkin pie

Free Range Turkey Dinner (15-20 lbs.): $150.00

2 qts. Dressing

1 qt. Real Mashed Potatoes

1 qt. Gravy

1 pint housemade Orange & Cranberry Relish

1 dozen rolls

2 pies (Pumpkin, Apple, or Sweet Potato)

1 pint Real Whipped Cream

Leg of Lamb (market price)
All other catering options are available.
The deadline for ordering is December 15 at 10 AM. (no exceptions)
Pick up will be December 23 by 10a-Noon at the Meldrum Kitchen, 1264 Meldrum, Detroit, MI 48207. All with reheat directions.
Payable by cash, check, or money order
---
---