Carnivale/Karnivale
February 27, 2017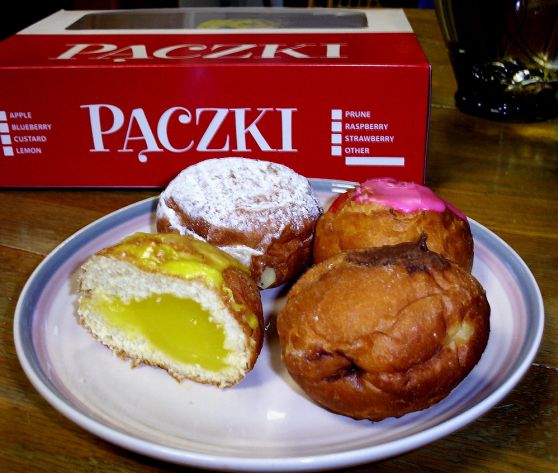 Author: Chef Alison Costello
The days are lasting longer; energy levels seem to be on the rise, birds are chirping more. But, I think we all can agree, we should expect more snow, even a possible storm. Another season is right around the corner, our Church's liturgical season, Lent. Another season that we are actually in is referred to as Carnival, Mardi Gras, or as us Poles say, Karnivale. Mardi Gras tends to be the day prior to Ash Wednesday. Most folks don't realize the religious connection to Mardi Gras, Carnival, Shrove Tuesday, Fasching or whatever you want to call it. In Christian parts of the world where it is celebrated as a season, others think of it like a week or day as a giant, binge drinking day of public revelry. Customs of this season can be seen as early as the fourteenth century. Back then, the Lenten season was more austere than most of us could handle. It was highly encouraged to go to confession the Tuesday before Ash Wednesday, hence 'Shrove Tuesday" (shriven from sin). Lent is a wonderful time of reflection and to prepare ourselves, becoming pure of heart, striving to please God in all things, "maintaining custody" of our "internal movements." So as we finish up these last days of Karnivale, lets enjoy each the wonderful, delicious things we love from God, thanking Him for them, for loving us so much that He gives us beautiful gifts of food, drink, pleasing music to hear, but more importantly, sharing these with each other. So, I finish with a recipe using up indulgent ingredients, cleaning out our cupboards, perhaps with a libation and some toe tapping music!
Paczki
Jelly Filled Sweet Yeast Doughnuts
Makes about 20-24
Need:
2 c. whole milk-warmed, not too hot-you don't want to kill your yeast
2 packages active dry yeast
6 c. AP flour
A 'tad over" ¾ cup sugar
4 yolks
1 whole egg (cracked)
1 ¼ tsp salt
1 tsp vanilla, rum or almond extract
4 T unsalted butter melted
Fruit filling, jam, preserves etc
Canola, safflower oil or LARD, yes, LARDJ for frying
Powdered sugar for after cooking
Mix milk & yeast & pinch of sugar together, let stand 5-10 min. till it gets bubbly.
Add 2 c. flour, mix till it gets smooth, cover w/film warp & set aside for about ½ hour.
In separate bowl mix egg & egg yolks till light in color, add sugar, salt & your extract, combining all. Using your dough hook in your mixer, add the dough and egg mixture , slowly combine on low. Add butter, mix, add almost all leftover flour, mix until you have a soft dough. Do not overmix. It should appear sticky. Add more flour a bit at a time if needed. Dump in an oiled bowl, cover w/cling film until doubled in size. Remove and put on flour covered surface, flour your rolling pin and roll out to about ½ inches thick. Your dough should hold its shape, otherwise, cover w/a damp towel & let sit for a few minutes.
Using a biscuit cutter-or improvise, cut out your dough circles placing them on a parchment paper lined sheet tray. Cover again w/wrap, wait another 20-30 min. In the mean time heat your oil (about 1 & half inches) in a heavy bottomed skillet or cast iron skillet. Heat oil until 350 F. Place dough rounds in oil-do not overcrowd the pan. Let one side get golden brown, turn over & repeat, carefully using a slotted spoon, remove & let drain on paper towel. Important: let the oil come back up to temperature before starting a new batch! Once all are cool, using a pastry bag w/a plain tip – fill the doughnut (paczek-singular) from its side. After all are filled, generously sift powdered sugar on both sides or you may use a glaze on top also. Enjoy!