Easter Baskets
April 10, 2017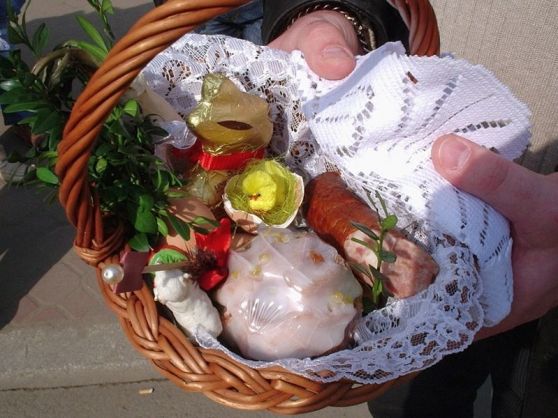 Author: Chef Alison Costello
Growing up in my family, there were 2 types of baskets at Easter. The kiddie ones were filled with chocolates, jelly beans, and other traditional favorites. The most important basket is the Swieconka (shvyen-son-ka) basket. The traditional Polish Easter basket that we took to church on Holy Saturday to be blessed. The food in this basket is supposed to be consumed after Easter Sunday Mass (preferably the Resurrection Mass).
Though contents vary from region to region, these are the typical items. First, our basket was lined with a white linen cloth. Bread/Chleb (h'lehb), the staff of life. Easter bread/Babka (bab-ka), the rich dough with raisins reminds us of Jesus, the Risen Lord! Butter/Maslo (mas-wo), often in the shape of a lamb or cross-signifying the end of Lent & the richness of Salvation, which flows from the Death & Resurrection of our Lord. A Candle symbolizing Jesus is the Light of the world. Cheese/Ser (sair) to remind us of moderation. Salt/Sol (sool) wisdom & preservation from corruption, to remind us that Christ did not undergo physical corruption; reminding us that people are the flavor of the Earth. Ham/Szynka (shinka) meaning great joy & abundance. Kielbasa stands for God's favor & generosity. Horseradish/Chrzan (h'shan) reminds us of the bitter herbs in the Passover meal & the bitterness of Christ's Passion. Finally, Pisanki (pee-san-key) or colored eggs; these represent hope, new life through Christ's Resurrection from the tomb.
Ribbons & greenery may adorn the basket symbolizing the joy of new life in spring & in the Resurrection. Our baskets are covered with a linen cover, which is then removed when the priest walk around & blesses all the food. The church has an amazing smell of all the kielbasa, garlic, and other spices. Of course, each family might add something else that is particular to their family or region where they are from. It is encouraged before the feast, even the children to have a blessed egg with horseradish before eating sweets, cracking the shell symbolizing Christ coming out of the tomb.
So, when you see folks flocking at different times on Holy Saturday with a basket to be blessed realize there is deep meaning and reverence in this beautiful tradition. And, you don't have to be Polish! There are so many ways to evangelize in the everyday! If you found this interesting, check out why Dyngus Day is fun for everybody, especially when you have little ones.
Happy Easter! Wesolego Alleluja! (ves-so-weh-go ah-lay-lu-jah)