Home \
37th Annual Capuchin Souper Summer Celebration
37th Annual Capuchin Souper Summer Celebration
Saturday, June 16
Party begins at 7:30 PM
Location: Comerica Park, 2100 Woodward Ave, Detroit, MI 48201
Gates open at 7:30 p.m.
· Ticket Sales Will End At 10:10 p.m.
· Fireworks will be at 10:30 p.m. Raffle Drawing will be at 10:45 p.m. (Raffle Announcement immediately following fireworks) - live entertainment through midnight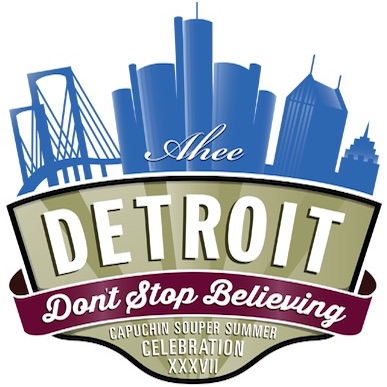 Dressy summer attire is suggested. All are welcome to attend who are 21 years of age or older and admission is complimentary. Valet and complimentary self-parking are available.
Food and cocktails will be available for purchase throughout the park. A spectacular fireworks presentation will commence at 10:30 PM followed by the raffle.
100% of the proceeds benefit the Capuchin Soup Kitchen!
LIVE ENTERTAINMENT!
Anthony Birchett & Co 7:30-12:30 PM @ Tiger Club
Tony Nouhan & Joe Fik Jr. 8:30-12:30 PM @ Pepsi Porch
...and much more entertainment including a special performance by Capuchin Friar, Fr. Tom Nguyen, plus the Capuchin Soup Kitchen Choir!
AMAZING RAFFLE
Extraordinary raffle prizes valued at over $30,000. Drawing immediately following fireworks. Raffle tickets are $5 each and can be purchased in advance.
Capuchin Souper Summer Celebration XXXVII raffle tickets cost $5 each and will soon be available!
To purchase tickets, call 313-579-2100 Ext. 159. You need not be present to win.
See you Saturday, June 16, 7:30 PM, at Comerica Park.
- The Ahee Family & the Capuchin Friars


2018 Capuchin Prize List
(Total valued over $30,000)
1st Prize
Ahee-designed and made 2.30 carat diamond ring in 18k white gold

Retail $12,500

2nd Prize
Maria Canale diamond flower pendant in 18k white gold

Retail $5,100

3rd Prize
Men's Tag Heuer automatic Aquaracer bracelet watch

Retail $3,500

4th Prize
Ladies Shinola Canfield diamond bracelet watch

Retail $2,800

5th Prize
David Yurman turquiose and diamond, silver and 18k yellow gold bracelet

Retail $2,650

6th Prize
Ippolita 18k yellow gold hoop earrings

Retail $1,995

7th Prize
Custom-designed Blessed Solanus medal in 18k yellow gold

Retail $1,850

8th Prize
Men's Shinola 47mm Runwell chronograph strap watch

Retail $750
Winner is responsible for all tax liability.