A Ministry of Consoling
May 1, 2017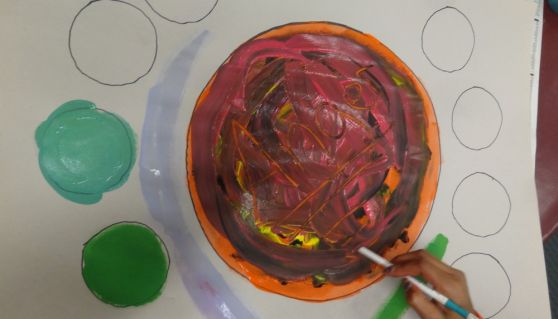 Author: Sister Nancyann Turner - Capuchin Soup Kitchen Children Program Manager
The Mission of our Rosa Parks Youth Program has always included to "Provide a safe place for children to express their feelings and discuss their Issues." Lately we have been doing that so often—and at such a deep poignant level—that our place almost feels like a sacred chapel.
On Tuesday, one of our creative 9 year old girls came to the art table with tears flowing. After a long hesitant conversation and lots of Kleenex she talked about her Godmother who had died the day before. The really hard thing was that she and her Mother were already at the hospital eager for a visit. As they reached the door, they were informed that she had just died. Eventually, a beautiful picture was created in honor of her Godmother and taken home to display.
Soon after that, a very sweet 7 year old girl approached me with her concerns about her mother who will soon have some very serious cancer surgery. I don''t know what the child knows about her mother's cancer, but she definitely knows her mother Is ill—and she wants to take care of her mother. Again consoling words were offered and a therapeutic picture was created. On the back the child wrote a beautiful, loving note to her mother.
After the session, we learned that one of our teen boys is being bullied over and over at school and in his neighborhood. Initially he just brushed it off but as the threats and Insults continue, he has become very melancholy and concerned. Bullying can be over one's religion, size, sexual orientation and/or many other factors. It is very hard to stop and the experience of being bullied, often seriously harms the child. We are still pondering the very best way to serve and strengthen this young man and help his mother know what he is suffering.
Last night a despondent man came in (just as I was leaving for home) to tell me his son had just died. This sorrowful man admitted he hadn''t been a very good father—too much drugs and alcohol. As I listened to his grief, I suggested, "Maybe this is an invitation to change. Even if you feel you weren''t a good father to your son, maybe when you change, you can be of help to other young men"
Finally, today, one of our precious ten year old boys shared a sad story: "Last night, I was walking our puppy on our street. A pit bull suddenly came along and attacked my dog—killing it. I carried it home and buried it in the back yard." This young boy already lost his father several years ago and so I could just sense how deeply he felt this loss.
As I pondered all these happenings in just three days, I am grateful that our team can offer a safe, supporting and sacred place for the children to share their feelings and issues. I am grateful for the opportunity to serve in a ministry and not just earn money in a job. I pray that all of us can offer solace and support to those who are suffering--especially, the children.