Joyful service
September 10, 2018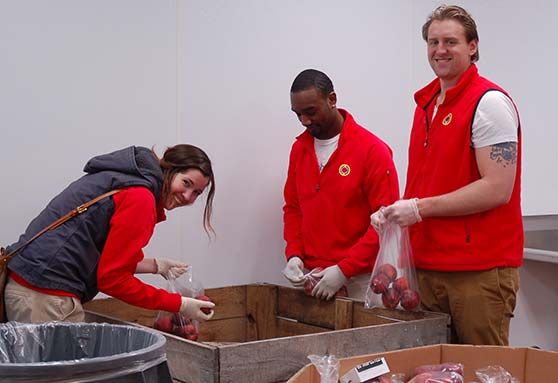 by Reggie Huff, manager of the Capuchin Service Center
"If you lavish your food on the hungry
and satisfy the afflicted;
Then your light shall rise in the darkness
and your gloom shall become like
midday."

Isaiah 58:10
As you know, one of the values of the Capuchin mission is that of "joyful service". In the values of the Capuchins it means, "Respectfully addressing people's needs, transforming us all."
At the Service Center it has been our pleasure to receive numerous employees of companies and organizations who come to volunteer with us to give back to help those who are in need.
I watch with joy at how people come in to volunteer and they are a little anxious, some even a little nervous, about the expectations of what they are to do. However, by the time the day is over, you see them engaged and assisting the shoppers that come into the Service Center with compassion.
I have come to appreciate and respect those who volunteer with us. Their enthusiasm and compassion for others is inspiring. Many times, our guests will ask them questions about products or life, and they are always willing to engage with them and to try and assist them.
Thank you to all the volunteers of the Capuchin Soup Kitchen. As a result of their willingness to help others, it helps to make our lives that much easier. Kudos to all the companies, agencies, corporations and organizations that have a commitment to providing opportunities for their employees to give back to the community through service.
Perhaps the next time you see a volunteer doing their thing, we can all take the time to say, "thank you" for their commitment and willingness to help make our world a better place for the neediest of our community.