O Come, O Come, Emmanuel
December 29, 2016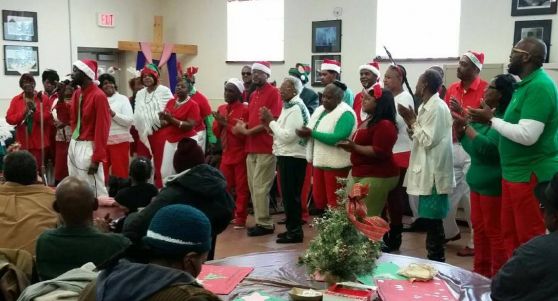 Author: Br. Jerry Smith
For several years now at the Meldrum site of the Capuchin Soup Kitchen we have tried to really focus on the weeks of Advent (the forty days leading up to Christmas) as a time of expectancy, hope, and waiting. The tree enjoys a place of prominence in the dining room, but undecorated and unlighted. The scripture readings from the Prophet Isaiah used at prayer sessions are filled with hope and longing for a better life, not only for the people of biblical times, but for our Soup Kitchen guests as well. We try to counter the commercial frenzy of the season with an emphasis on cleansing our hearts and making room for the coming of our God.
And it all culminated this year with a spirited celebration held in conjunction with the noon meal on December 23. The Capuchin Soup Kitchen Choir—members splendidly dressed in Christmas red and green—led the group in the singing of favorite carols. Guests were invited to place on the tree various decorated ornaments that had been set out on the dinner tables. As a chaplain read the Christmas story, three individuals processed to the tree and placed in the manger scene the figures of Mary, Joseph and the baby Jesus. And finally, a child flipped a switch that resulted in not only an explosion of light among the tree branches, but also a surge of hope among the two hundred people gathered there.
Emmanuel—"God with us". The words took on new meaning for me that day.