School Supply Event a Great Success
September 13, 2017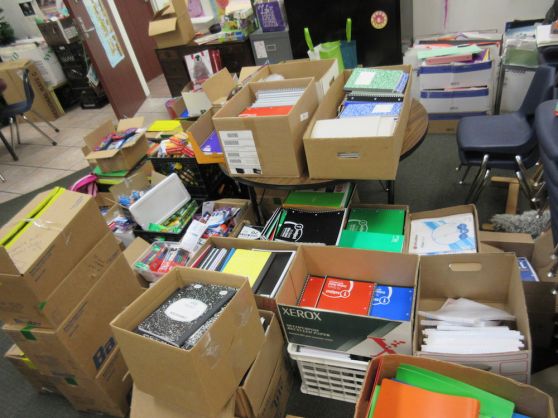 Author: Nancyann Turner, OP
Thanks to the overwhelming generosity of many people, churches, Dominican Sisters, staff and various organizations, a monumental amount of school supplies were donated to the Rosa Parks Program during August 2017
All together we were able to distribute 339 backpacks filled with school supplies. Finally, Friday afternoon, Sept. 1, we had to start packing supplies in plastic bags as we ran out of backpacks.
One of the best components of the school supply distribution was that before any supplies were given, a conversation was held with each child and their parent regarding how they were going to make education a priority this coming year. The discussions ensued with honest and worthwhile thoughts about more time on homework and reading--and less time on TV and social media.
I was so impressed with many of the mom's ideas for supporting their child's education efforts. Most of them have already set strong guidelines about homework being a top priority. Many parents limited TV or phones. Nearly all the moms have learned that the best method is to sit with their children during a study/homework hour. Others have learned how important a quiet house is reading and studying—and allow no electronics for an hour after supper. Some families try to make studying fun or add a snack.
Several moms read a story to their small children each night before bed—with some conversation afterward. (Research shows that this is one of the best ways to promote a love of reading.) One of the mothers sounded just like my own mom, " We will eat dinner together with no phones and no TV allowed for anyone." Amen.
Naturally, many of the children's school year goals included improved tests, better grades and regular completion of homework tasks. Some of their answers really inspired me:
"I really need to make some new friends…friends that won't bully me or invite me to trouble…"
"I want to be the best I can be…"
"I let my dad have my cell phone during homework so I won 't be looking at it."
"I need to listen better," and "I really need to figure out how to be in less trouble…and avoid the fights…"
And the two answers that most delighted me:
"I really need an attitude adjustment…"
"If I could just stay out of the drama…"
God, bless these children with schools that are safe and are caring. Bless the homes and the parents with patience, stability and willingness to be with their children, to read with their children and to celebrate education with their children.