We Want Peace, We Want Peace
August 29, 2017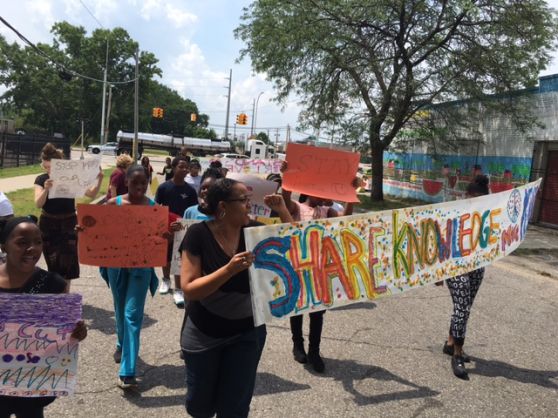 Author: Davon Mann, Rosa Parks Youth Program Coordinator
Rosa Parks Youth program recently just ended its Summer Peace Camp with an amazing graduation celebration. At the graduation, we premiered a film entitled "We Matter," which was created by the Rosa Parks Youth program teens and the Get Ahead Stay Ahead Project. The film was inspired by the senseless violence not only in Detroit but throughout the entire country.
After seeing the film the teens wanted to do more than just spread awareness about violence. Not sure what they could do to inspire change we challenge them to do a march in their own community. We knew that they would have to overcome some fear and embarrassment because this march would take place in their own neighborhood. But the kids agreed to march and got started right away. They created signs, banners and a tag line to chant during the march. We chose the date of July 28th and with the help of the Detroit Police Department 5th Precinct the teens marched at 1pm sharp. You should have seen a group of young people walking the streets in unison, chanting "We Want Peace, We Want Peace." Within five minutes of marching the neighborhood had started to join in by cheering the kids on. It was an amazing sight to see and be a part of.
Please view the pictures of the march as well as the YouTube video the teens created. We hope that you will share in our youth's vision and inspire peace in your own neighborhoods as well.