Capuchins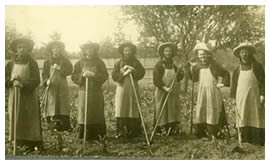 Earthworks is a program of Capuchin Soup Kitchen in Detroit, Michigan. Together, we not only feed Detroit residents, but also strive to create a food-just Detroit, one in which all people have control over their food. The Capuchin Soup Kitchen is a human service organization inspired by the spirit of St. Francis and sponsored by the Capuchin Friars of the Province of St. Joseph of the Capuchin Order.
The Capuchin Soup Kitchen is much, much more than just a soup kitchen.
Founded in 1929, the Capuchin Soup Kitchen serves Metro Detroit by providing food, clothing, and human development programs to the people of our community. In addition to preparing and serving up to 2,000 meals a day, it operates a shower program, emergency food pantry, and a tutoring and art therapy program for children. It also distributes household items and clothing. Its Earthworks Urban Farm produces 14,000 pounds of produce from a two and a half acre organic farm, and educates the community in regards to sustainable relationships between human beings and the earth. The Soup Kitchen's On the Rise Bakery assists individuals "re-entering" society after bouts of incarceration or substance abuse. In addition, the Soup Kitchen's Jefferson House, a twelve bed residential treatment facility, assists indigent males seeking to reclaim their lives from addiction. It is funded primarily by donations, receiving no government assistance.