Volunteer
Volunteer services have resumed at Earthworks Urban Farm! We are in dire need of help with weeding, planting and picking our gardens up! We know times are especially hard right now, and we need help in growing food for our communities.
We welcome you to volunteer with us. Volunteering is a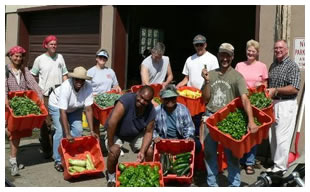 great way to get involved in our work, to learn more about how growing food helps bring people together and build community!
Please contact Wendy Casey at earthworks@cskdetroit.org to schedule a volunteering session. Effective January 1, 2020, we no longer accept drop-in volunteers.
Please carefully read the below information regarding volunteering with Earthworks and share it with others that intend on volunteering with you. Let us know if you have any additional questions.
Type of work
The type of volunteer work we have may depend on many variables such as the time of year, weather, size, and age of the group or otherwise. As such, it's difficult to share what exactly volunteers will be doing on a particular date.
In general, some of those things may include:
mixing soil/making soil blocks or germination trays
flipping compost
planting/seeding or thinning out seedlings
pricking out seedling/transplants
harvesting/processing produce
cultivating/weeding beds
general cleanup and other tasks generally related to gardening or farming.
In other words, manual labor that includes lifting, kneeling, crouching, bending, twisting, turning, shoveling, raking, etc. Caution may be required when working or walking on ground that is loose, uneven or slippery.
Location
Earthworks is located at the Capuchin Soup Kitchen's Meldrum site, 1264 Meldrum (at St. Paul) Detroit, MI 48207. We are located between Kercheval and E. Lafayette and between Mt. Elliott and Beaufait on Detroit's near eastside right behind the Capuchin Monastary and St. Bonaventure.
When you arrive to volunteer at Earthworks, please ask for Patrick (Farm/Program Manager) or Tyler (Assistant Farm Manager).
Times
Our volunteer schedule is seasonal. We have outdoor gardens as well as a greenhouse and hoop house so we can work rain or shine.
Our weekly schedule of specific times and shifts is released a few days before the scheduled work week. The typical volunteer days and times are as follows:
Monday through Saturday
Morning shift: 8:00 am - 10:00 am
Mid shift: 10:00 am - noon
Afternoon shift: 1:00 pm - 3:00 pm
Please note that some shift days and times may not be available for some weeks depending on the workload and season. Please contact Wendy Casey at earthworks@cskdetroit.org for the weekly schedule.
Age
Minimum age of a volunteer is seven years old. Any volunteer who is under 18 years old must be accompanied by a parent, legal guardian, or a parent-approved adult chaperone.
Attire
Please make sure that you come prepared to work by wearing the appropriate clothing: comfortable, closed-toe shoes are required and long pants that you don't mind getting dirty. We also highly recommend that you bring a reusable water bottle, a hat with a brim to keep the sun out of your face and maybe some sun block. We work rain or shine so dressing for the weather is also recommended. Please note that closed-toe shoes are required!
Photos
Volunteers are more than welcome to take photos of our gardens. We ask that photos including people from the community or other volunteers are taken with their expressed permission whether or not the photos are for personal use or will be published. Likewise, Earthworks' staff may also take photos of volunteer activities to share in our weekly newsletter, Facebook page, Twitter and Instagram account.s Volunteer groups should communicate this if they don't already have a policy regarding photos. We respect any individual or group's right to not have their photo taken.
Other opportunities
All are highly encouraged to join our email list to receive weekly email updates that include volunteer opportunities by clicking here. Or call us at (313)-579-2100, ext 2204 for more information.
Click here to follow the Earthworks Facebook page to learn about upcoming volunteer opportunities and events.
COVID-19 Response
In order to help mitigate the spread of COVID-19 and to protect your health and the health of our staff, we ask you to implement the following guidelines:
Please do not volunteer if you or someone in your household is experiencing symptoms of shortness of breath, persistent coughing and/or fever. Also please do not volunteer if you are under quarantine or supposed to be under quarantine.
You will be asked to complete a standard COVID-19-related health questionnaire the evening before volunteering, or the day of volunteering. This is required by Michigan state law.
When you are on the premises:

You must bring your own work gloves. Earthworks will provide disposable plastic gloves.
You must wear your own face maks or cloth face covering that covers your mouth and your nose.
You must bring your own water bottle and enough water for the two-hour volunteer session.
You must follow CDC-recommended guidelines, including:

Maintaining at least six feet of social distance from any other person at all times.
Washing hands properly with sop and water before and after your volunteer shift. Earthworks will provide a handwashing station.
No touching of face with hands, with or without gloves.
Coughing into a cloth, tissue or your elbow.
Do not shake hands or engage in any unnecessary physical contact.

All tools and wheelbarrows are wiped down with disinfecting wipes before and after each volunteer session. Each set of tools would be limited to be used by one volunteer at a time, to avoid sharing of tools. Tools that volunteers use would be limited to that volunteer. You would need to keep track of who is using what tool at each session so that there is no sharing of tools.