Volunteer
****** Please note that due to the Coronavirus pandemic, volunteer services at Earthworks Urban Farm are currently suspended. ******
We welcome you to volunteer with us. Volunteering is a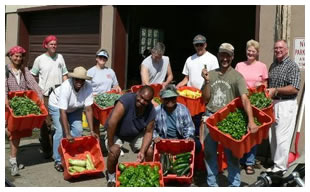 great way to get involved in our work, to learn more about how growing food helps bring people together and build community!
Please contact Patrick or Tyler earthworks@cskdetroit.org to schedule a volunteering session. Effective January 1, 2020, we no longer accept drop-in volunteers.
Please carefully read the below information regarding volunteering with Earthworks and share it with others that intend on volunteering with you. Let us know if you have any additional questions.
Type of work:
The type of volunteer work we have may depend on many variables such as the time of year, weather, size, and age of the group or otherwise. As such, it's difficult to share what exactly volunteers will be doing on a particular date.
In general, some of those things may include:
mixing soil/making soil blocks or germination trays
flipping compost
planting/seeding or thinning out seedlings
pricking out seedling/transplants
harvesting/processing produce
cultivating/weeding beds
general cleanup and other tasks generally related to gardening or farming.
In other words, manual labor that includes lifting, kneeling, crouching, bending, twisting, turning, shoveling, raking, etc. Caution may be required when working or walking on ground that is loose, uneven or slippery.
Location:
Earthworks is located at the Capuchin Soup Kitchen's Meldrum site, 1264 Meldrum (at St. Paul) Detroit, MI 48207. We are located between Kercheval and E. Lafayette and between Mt. Elliott and Beaufait on Detroit's near eastside right behind the Capuchin Monastary and St. Bonaventure.
Here's a map! http://goo.gl/maps/YTxPM
Times:
Our volunteer schedule is seasonal. We have outdoor gardens as well as a greenhouse and hoophouse so we can work rain or shine.

Wednesdays: 9am - 12pm - February 6 through December 18.
Saturdays: 9am - 12pm - April 6 through November 16.
Thursdays/Fridays, 9am - 12pm - Starting June 6/7 through August 30.

After volunteering, you are more than welcome to join us in the Soup Kitchen for lunch Wednesday through Friday. Give us a call or check our calendar before you come (just to be on the safe side). We don't host volunteer hours on the weekends of Memorial Day, the 4th July or Labor Day.
Group Size:
The only time you need to call ahead is if you're coming with a group larger than five people. The largest group we can accommodate at any time is 15.
Age:
Minimum age of a volunteer is seven years old. Any volunteer who is under 18 years old must be accompanied by a parent, legal guardian, or a parent-approved adult chaperone.
Attire:
Please make sure that you come prepared to work by wearing the appropriate clothing: comfortable, closed-toe shoes are required and long pants that you don't mind getting dirty. We also highly recommend that you bring a reusable water bottle, a hat with a brim to keep the sun out of your face and maybe some sun block. We work rain or shine so dressing for the weather is also recommended. Please note that closed-toe shoes are required!
Photos:
Volunteers are more than welcome to take photos of our gardens. We ask that photos including people from the community or other volunteers are taken with their expressed permission whether or not the photos are for personal use or will be published. Likewise, Earthworks' staff may also take photos of volunteer activities to share in our weekly newsletter, Facebook page, Twitter and Instagram account.s Volunteer groups should communicate this if they don't already have a policy regarding photos. We respect any individual or group's right to not have their photo taken.
Other opportunities:
You can also volunteer in our Soup Kitchen. At our Meldrum Soup Kitchen, Rita Johnson schedules volunteers to help prep and serve food. Her phone number is (313) 579-2100 ext 2213. There are two volunteer shifts in the Soup Kitchen. One is from 6am-10am and the next shift is from 11am-2pm.
When you arrive to volunteer at Earthworks, please ask for Patrick (Farm/Program Manager) or Tyler (Assistant Farm Manager).
All are highly encouraged to join our email list to receive weekly email updates that include volunteer opportunities by clicking here. Or call us at (313)-579-2100, ext 2204 for more information.
Click here to follow the Earthworks Facebook page to learn about upcoming volunteer opportunities and events.