Volunteer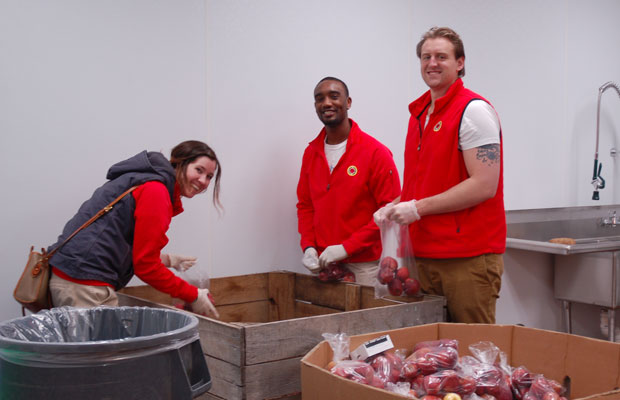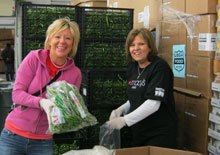 With the latest date extension of the "Stay Home, Stay Safe" executive order by Governor Whitmer, and continuing to help mitigate the spread of COVID-19 and after careful assessment, the Capuchin Soup Kitchen continues to suspend all volunteer services until further notice. As we monitor the situation carefully, we will continue reassessing as we receive updated information to discern an appropriate timeframe to resume volunteer services. This change affects volunteers at the Capuchin Soup Kitchen Meldrum and Conner meal sites, Capuchin Services Center, Rosa Parks Children's Program and On the Rise Bakery.
Volunteer opportunities are available at Earthworks Urban Farm.
With some adjustments, the Capuchin Soup Kitchen plans to remain open using existing staff to continue to serve.
---
Since its inception, the Capuchin Soup Kitchen has depended on the time and efforts of others in the community who shared our concern and commitment to the poor. At the heart of our mission is the service of the many volunteers that donate their time on a daily, weekly or monthly basis. Whether preparing food in the kitchen, serving meals to guests; planting, weeding or harvesting in the Earthworks garden; hanging clothing, building pantry boxes or packaging meat in the Services Center; tutoring or mentoring a child or assisting in the Arts program at the Children's Library, volunteers provide the extra pair of hands, the warm smile and caring attitude that make the Capuchin Soup Kitchen what it is. The hours of service given by volunteers translates into over 30 additional full time staff that would have to be employed to serve those who come to our door.
If you want to volunteer at the Capuchin Soup Kitchen we ask you to bring three important things with you: a willingness to work hard, an open and positive attitude, and a smile. We can promise you that you will work hard, have some fun, and learn a great deal about yourself and your fellow human beings.
Many volunteer opportunities exist at the Capuchin Soup Kitchen. Some of our most popular jobs include:
Serving meals and assisting in the kitchens. At our Conner Kitchen location, we are able to accommodate 10 volunteers for each of our three meals. (Breakfast 8-10a; Lunch 10:30a-1p; Dinner 3:30-6p)
Sorting and sizing clothing
Preparing emergency food packages
Working in the Earthworks Garden
Tutoring, teaching and mentoring children and teens
Summer Camps for Kids
Thanksgiving Basket Give away
Assisting at our special events held throughout the year
Holiday volunteering at the Capuchin Soup Kitchen
The guests and staff of the Capuchin Soup Kitchen love and appreciate the dedicated volunteers who make a difference every day. With the busy holiday season approaching, the kindness of many volunteers wishing to serve on Thanksgiving Day and Christmas Day dramatically exceeds the capacity of our Soup Kitchen sites. In fact, both Soup Kitchen meal sites are already fully booked for Thanksgiving and Christmas Day 2019.
So instead of serving on the meal line on Thanksgiving Day or Christmas day, maybe there are other days you could consider serving at Capuchin Soup Kitchen. Perhaps there's an important day for your family: like a wedding anniversary, birthday, or anniversary of a loved one's passing. Consider marking that day by serving at the Capuchin Soup Kitchen.
Please complete the Volunteer Form
Or please reach out to one of our volunteer coordinators to learn about opportunities at their location.
Services Center – Candice Wroblewski
Conner Kitchen – Maxwell Morrison
Meldrum Kitchen – Rita Johnson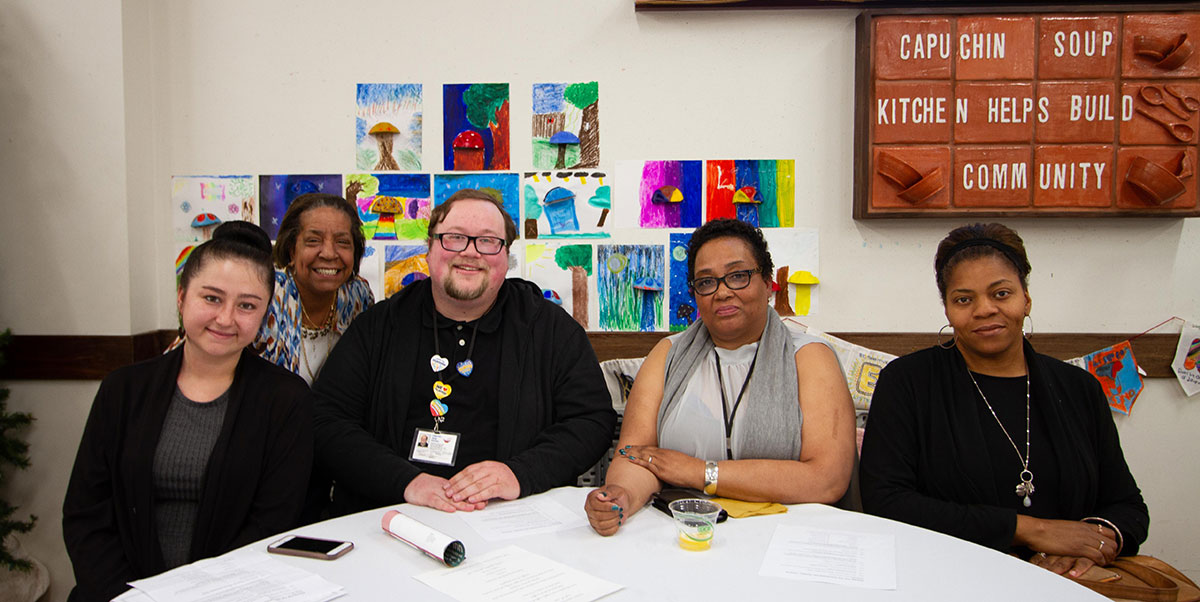 Pictured above are the Capuchin Soup Kitchen Volunteer Coordinators. From left to right: Candice Wroblewski, Gayle Koyton, Maxwell Morrison, Rita Johnson, Wendy Casey
Please note: Our Saturday Volunteer Opportunities reserve quickly.
Please note: Minor volunteers must be accompanied by and under the direct supervision of their parent, guardian, or adult chaperone.