Home \
35th Annual Capuchin Souper Summer Celebration
35th Annual Capuchin Souper Summer Celebration
Saturday, June 18
Party begins at 7:30 PM
Location: Comerica Park, 2100 Woodward Ave, Detroit, MI 48201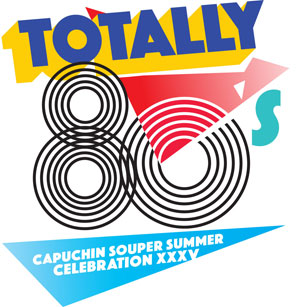 You are so totally invited to turn back time and relive one of the raddest decades in history, the 80's. Join us for the edmund t. AHEE jewelers Capuchin Souper Summer Celebration XXXV at Comerica Park. We will take you back to an era that saw Michael Jackson thrill the world, E.T. phone home, and the Detroit Tigers roar their way to World Series Champs. Enjoy live entertainment, 80's era look-a-likes and surprises throughout the night. This time machine is free to ride.
Dressy summer attire is suggested. All are welcome to attend who are 21 years of age or older and admission is complimentary. Valet and complimentary self-parking are available.
Food and cocktails will be available for purchase throughout the park. A spectacular fireworks presentation will commence at 10:30 PM followed by the raffle.
100% of the proceeds benefit the Capuchin Soup Kitchen!
LIVE ENTERTAINMENT!
Rockstar 80's Tribute Band
The Persuasion Band
DJ PREVU with live percussionist Jared Sykes
80's Celebrity Look-a-likes
Surprises throughout the park
AMAZING RAFFLE
Extraordinary raffle prizes valued at over $30,000. Drawing immediately following fireworks. Raffle tickets are $1 each and can be purchased in advance.
Capuchin Souper Summer Celebration XXXV raffle tickets cost $1 each and are now available! To purchase tickets, call 313-579-2100 Ext. 153 or email Events@thecapuchins.org You need not be present to win.
See you Saturday, June 18, 7:30 PM, at Comerica Park.
- The Ahee Family & the Capuchin Friars


2016 Capuchin Prize List
(Total valued over $30,000)
1st Prize
Ladies 31mm stainless steel and 18k yellow gold Rolex Datejust watch.

Retail $11,650

2nd Prize
Ivanka Trump Athénée Collection diamond earrings in 18k white gold.

Retail $6,500

3rd Prize
Roberto Coin round brilliant cut diamond earrings in 18k yellow, white and rose gold.

Retail $4,200

4th Prize
Mikimoto pearl and round brilliant cut diamond pendant in 18k white gold.

Retail $2,400

5th Prize
Men's stainless steel Tag Heuer automatic Aquaracer bracelet watch.

Retail $2,300

6th Prize
David Yurman Renaissance Collection lapis and turquoise bracelet in silver and yellow gold.

Retail $1,950

7th Prize
Ippolita Gelato Collection blue topaz necklace 18k yellow gold.

Retail $795

8th Prize
Men's red agate cufflinks in silver.

Retail $210
Winner is responsible for all tax liability.