"It gave us life."
March 27, 2019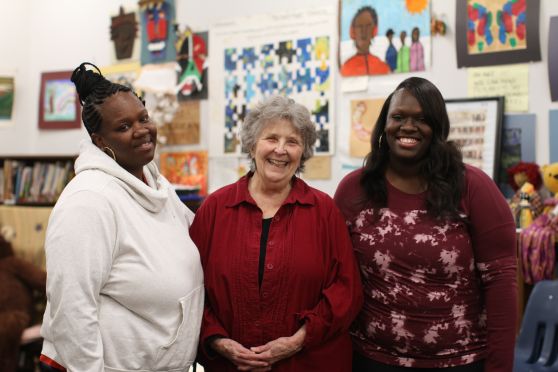 For sisters Sarbinthe Martin and Nakita Martin, who grew up on Detroit's east side, the Capuchin Soup Kitchen has been an oasis where they were nourished in mind, body and spirit. Sarbinthe and Nakita were among the first kids to participate in art therapy in what is now the Capuchin Soup Kitchen's Rosa Parks Children's and Youth Program, entering when they were still in grade school.
Today, Nakita works at an assembly plant for one of the Detroit three automakers and plans to study nursing, while Sarbinthe works full-time for the Macomb Meals on Wheels program, bringing food
to vulnerable seniors. Sarbinthe and Nakita still keep in touch via social media with the people they met as kids in the Rosa Parks Children's and Youth Program.
For Nakita, art therapy was transformative. "It challenged us to open up about ourselves and our feelings, and that's something that we wouldn't have otherwise had the opportunity or even the desire to do," said Nakita. "Quite a few people who came through the program still do art to this day."
"I always credit this place for the positive things that I've seen growing up," said Nakita. The Martins grew up in a large household with six siblings, with all of the challenges that go along with growing up in a large family. Home could be a chaotic place. "This place was an escape from that," said Nakita. The Rosa Parks Children's Program provided structure that the sisters agree was a necessary ingredient in order for them to flourish as they have.
As the Rosa Parks Children's Program evolved, the Martins participated in tutoring, life skills, workplace readiness, financial literacy, gardening, teen support groups, summer camp and other program components. Eventually, they became junior counselors and helped the younger children in the program. As it grew and evolved, the program sought to involve and connect parents and guardians, giving parents and families the opportunity to get to know and support one another as neighbors.
Now, the sisters volunteer as tutors, helping youth along the way toward academic success. "Even after we got older, we came back and tutored other kids," said Sarbinthe. "It was humbling to be there for others." In addition, Nakita enrolled her two children, ages eight and nine, in the program last summer. "It was important for them to get to experience that I did, what I felt helped me along the way," said Nakita.
Read more about Capuchin Soup Kitchen in out recent newsletter.