Upcoming Events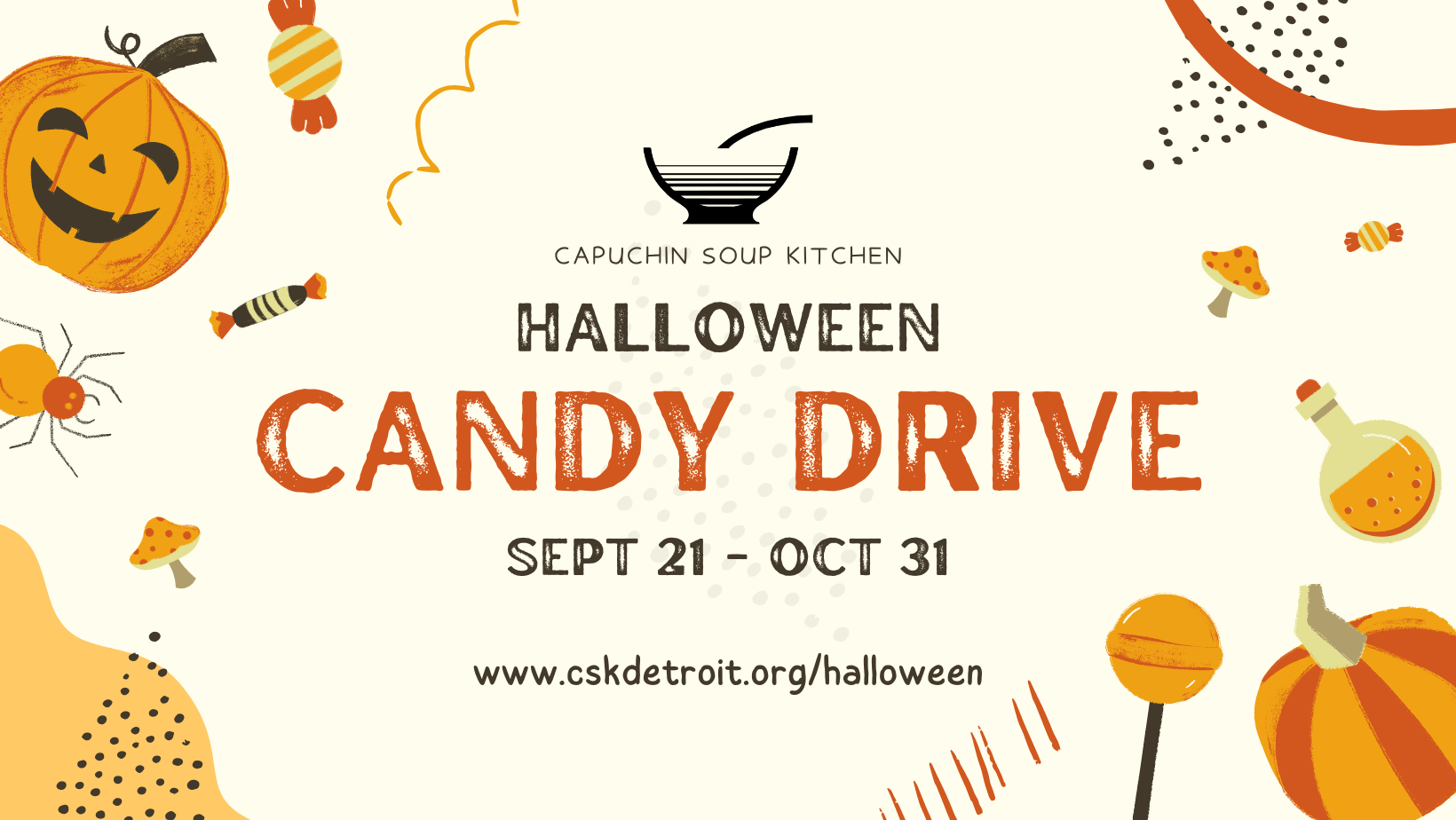 To get into the festive fall spirit, the Capuchin Soup Kitchen is hosting a Halloween Candy Drive for the kids of the Capuchin Soup Kitchen and we're asking for your help with candy donations!

Between now and October 31st, we'll be collecting donations for Halloween candy to give out to the kids who visit the soup kitchen. Candy will be checked by staff before Halloween and packaged for distribution to ensure safety.

To donate, you can either drop off or mail a candy donation of your choice to our Conner location at 4390 Conner St, Detroit, MI, 48215 or purchase an item from our wishlist at ofmcap.cc/halloween!

The kitchen will also host a special kids' meal that day as well. Join us as we work to make each holiday special for our kids. God bless!
Breaking Bread newsletter archive
View our recent Breaking Bread newsletters. To sign up to receive Breaking Bread in your mailbox, e-mail us at [email protected].
We are partnering up with PizzaPlex in an effort to support our Capuchin Soup Kitchen. PizzaPlex, a southwest Detroit pizzeria specializing in authentic Neapolitan-style pizzas, has an incredible tradition that originates in Italy called sospeso. Sospeso means to pay it forward. PizzaPlex recently launched the Sospeso Collective to support a small number of organizations doing the work, including the Capuchin Soup Kitchen.


We'd like to ask you to pay it forward and purchase pizzas and pizza kits that will help us provide delicious, from-scratch pizzas to guests of the Capuchin Soup Kitchen. You can help by purchasing directly here: https://pizzaplex.square.site/s/order. Scroll to the bottom and look for Sospeso Collective Pizzas and PIzza Kits benefitting Capuchin Soup Kitchen. At checkout, you can skip the part about pickup or delivery. The pizzas and kits will be delivered directly to our Meldrum and Conner meal program sites.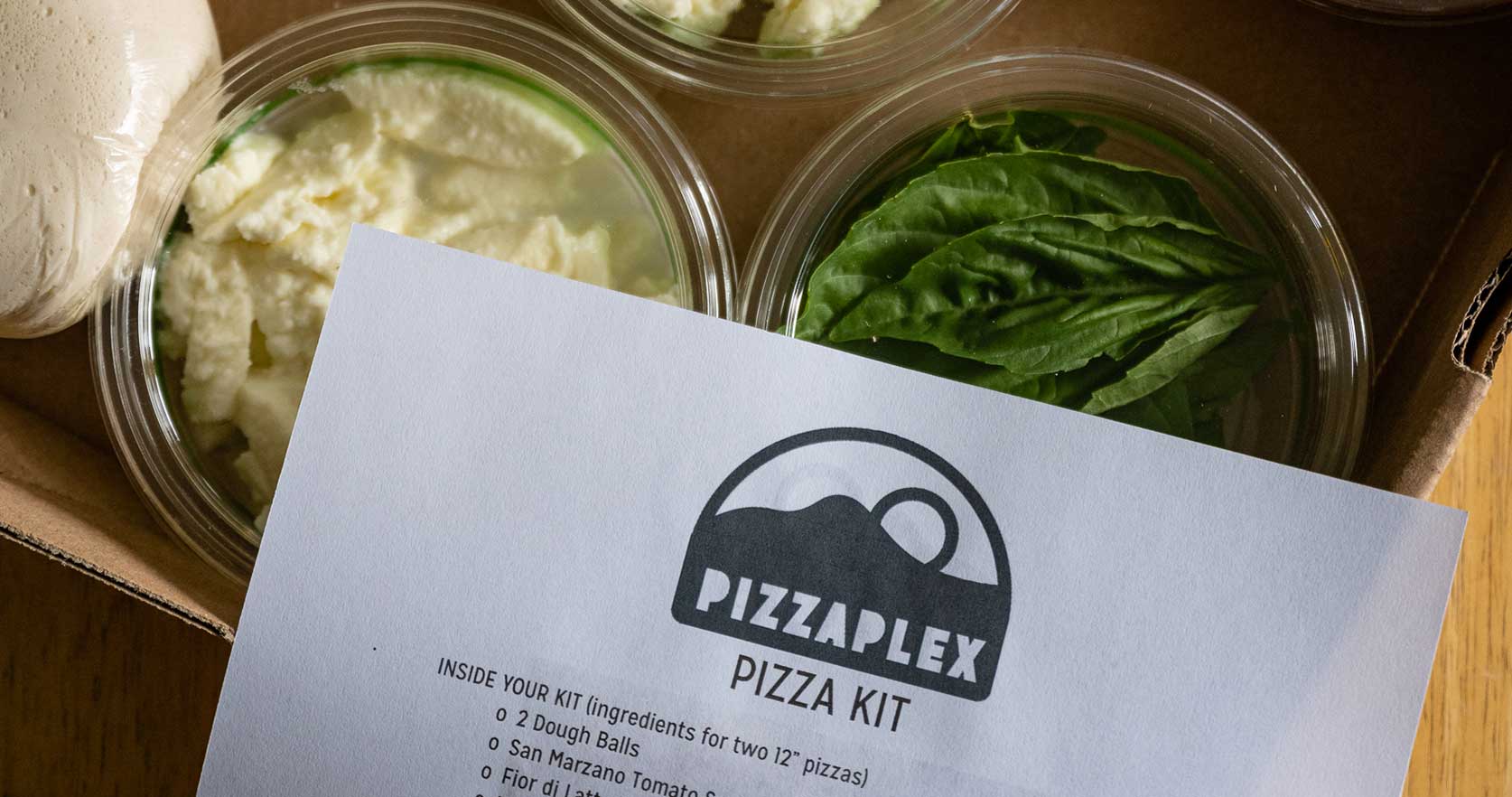 We give thanks ahead of time – mille grazie in anticipo – for your generous support in providing meals for our guests.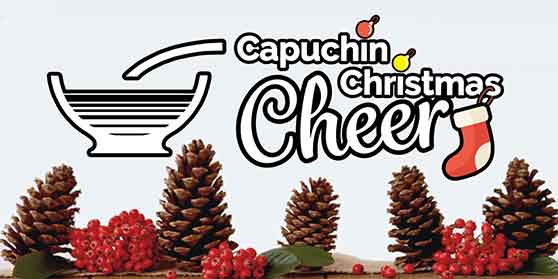 You can help make Christmas brighter for guests of the Capuchin Soup Kitchen and their families. This year, give to the Capuchin Christmas Cheer drive. We'll be handing out warm clothing items like hats, gloves, backpacks and other items to guests at our two meal program sites on Christmas Day. You can help us by purchasing items from our Amazon and Target wish list for delivery to the Capuchin Soup Kitchen. Or you can purchase items locally and mail or deliver them to us. We'll be accepting donations through Thursday, December 22.
Show you care this holiday season by spreading Christmas cheer among your neighbors facing challenging circumstances around the holidays.
Shop Amazon wishlist Shop Target wishlist
Thank you for helping us to empower local families!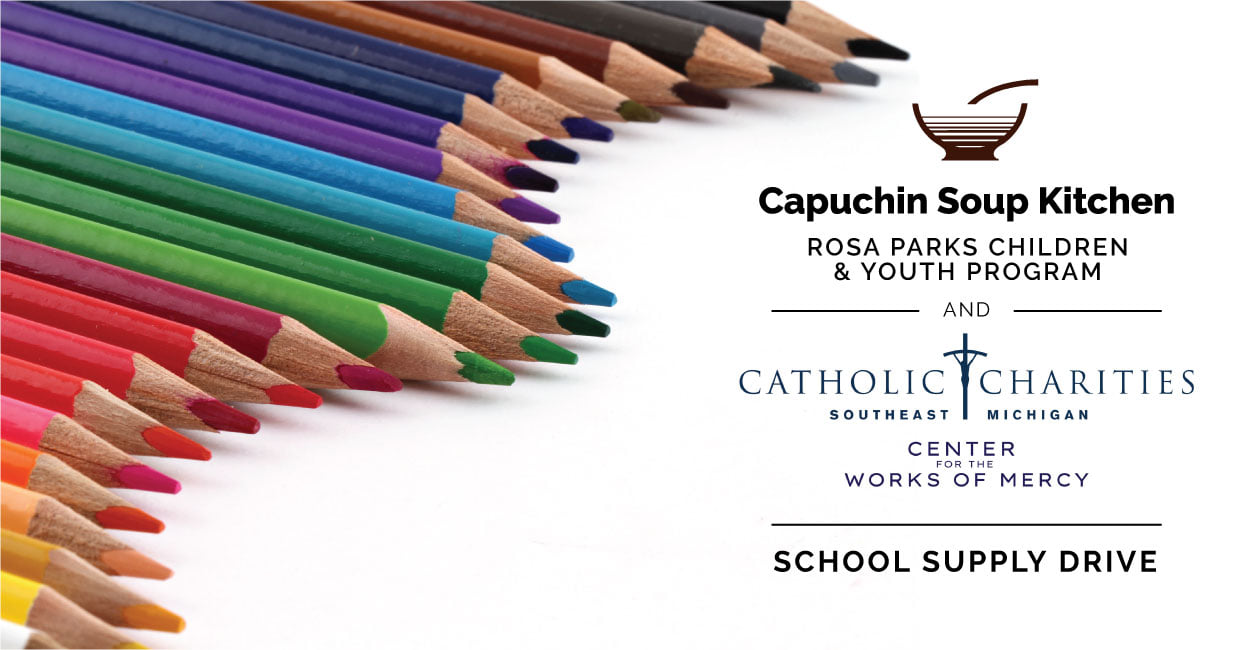 You can help a student achieve this school year by making a donation to the annual Rosa Parks Youth Program school supply drive!
The Capuchin Soup Kitchen's Rosa Parks Youth Program along with Catholic Charities of Southeast Michigan is collecting school supplies between now and August 16 in an effort to help students achieve academic excellence. You can help by purchasing supplies from our Amazon Back-to-School Drive wishlist:
Thank you for helping us to empower local families!
Thank you ahead of time to the members and directors of the Detroit Regional Relocation Council for considering a gift to the Capuchin Soup Kitchen.
Since 1929, the Capuchin Soup Kitchen has offered hospitality, compassion and a warm meal to those suffering through challenging circumstances. As the Capuchin friars and their partners in ministry work to attend simply and directly to spiritual and other basic needs, we offer our gratitude for joining us in this work by making a gift.
The Capuchin Soup Kitchen does this work through seven programs at five locations:
Meal program sites at our Meldrum Kitchen and Conner Kitchen
Capuchin Services Center food pantry and clothing distribution program
Jefferson House CARF-accredited residential substance use disorder treatment program for men
On the Rise Bakery and Cafe providing work experience and job training to men recovering from addiction or returning from incarceration
Rosa Parks Youth Program providing after-school tutoring and art classes for Detroit youth
Earthworks Urban Farm, a 1.5-acre USDA-certified urban agriculture program providing education and training opportunities, while supplying fresh produce to our meal sites
Thank you for your interest in supporting the Capuchin Soup Kitchen.

As you perhaps have expected, we have decided not to hold 2021 Buddy's Slice for Life, out of concern for public safety. As we all do our best to limit the spread of COVID-19, we find ourselves in a position of making unhappy sacrifices. This is one of those. We will miss the fun we have all shared in years past.

But while safety comes first, the cause of helping people in need is something we cannot ignore. Proceeds from Buddy's Slice for Life help serve the many people who participate each day in the numerous programs and services offered by the Capuchin Soup Kitchen. That's why we are asking you to support our Slice for Life event in spirit by making a donation for our ministry here at the Capuchin Soup Kitchen. We cannot gather together this time around, but we can continue to ensure what money you send us goes toward helping people in need at this trying time.

Next year we hope we can continue the "Slice for Life" event with Buddy's in the traditional manner we all know and love so well.

We thank God ahead of time for your support.
Thank you for your support of the Capuchin Soup Kitchen. Your donation provides a lifeline through our seven programs at five sites in Detroit:
Meldrum Meal Program
Conner Meal Program
Capuchin Services Center clothing and food distribution
Jefferson House residential substance use disorder treatment center
On the Rise Bakery and Cafe providing residential workforce training for men returning from incarceration
Rosa Parks Youth Program art therapy and tutoring
Earthworks Urban Farm
---
The following information reflects the most up-to-date information on COVID-19 related adjustments to programs, services, protocols and hours of operation at Capuchin Soup Kitchen sites.
Capuchin Soup Kitchen - Meldrum Meal Site
OPEN
1264 Meldrum Street
Detroit, MI 48207
(313) 579-2100
---
Capuchin Soup Kitchen - Conner Meal Site
OPEN
4390 Conner Street
Detroit, MI 48217
(313) 822-8606
---
Capuchin Services Center
OPEN
6333 Medbury Street
Detroit, MI 48211
(313) 925-0514
Hours: 8:30 am to 4:00 pm Tuesdays through Fridays. Those seeking food are asked to make an appointment by calling (313) 925-0514. We ask that in-kind donations, such as clothing, not be brought until further notice in order to cut down on travel and traffic. Our social workers will be available.
---
Earthworks Urban Farm
1264 Meldrum Street
Detroit, MI 48207
---
Jefferson House
8311 E. Jefferson Avenue
Detroit, MI
(313) 331-8900
---
Rosa Parks Children's Program
4390 Conner Street
Detroit, MI 48217
---
On the Rise Bakery and Cafe
8900 Gratiot Avenue
Detroit, MI 48213
(313) 922-8510
Many people have been asking how they might help us help others at the Capuchin Soup Kitchen, as we are serving people who have recently lost their jobs, in addition to those we normally serve. For everyone's safety, we've canceled all of our in-person fundraisers, including our largest fundraiser of the year, the annual SOCK Dinner held at TCF Center in September. We ask you to be safe, and to consider others with love and kindness during this difficult time.
Now through June 1, 2020, The Bollinger Foundation will match every donation made to the Capuchin Soup Kitchen, dollar-for-dollar, up to $20,000! Help the Capuchin Soup Kitchen provide meals, social work services and kindness to metro Detroit residents during these difficult times.
Since 1929, the Capuchin Soup Kitchen has been serving the people of Detroit, offering a hot meal and joyful hospitality in the spirit of St. Francis of Assisi. Will you partner with us to fulfill our mission of attending simply and directly to the needs of those who are struggling with poverty, homelessness and hunger?
Since 1929, the Capuchin Soup Kitchen has provided food and clothing to people in need. Serving up to 2,000 meals a day, we depend on people like you. Will you help us? Or if you prefer, please mail your check to the Capuchin Soup Kitchen, 1820 Mt. Elliott, Detroit, MI 48207. We thank you.
The Capuchin Soup Kitchen is registered a 501(c)(3) charitable organization.
A gift to the Capuchin Soup Kitchen helps feed bodies, nourish spirits and strengthen communities.
The Capuchin Soup Kitchen is a registered 501(c)(3) charitable organization.
The Capuchin Soup Kitchen is a registered 501(c)(3) charitable organization.
Philanthropy is based on voluntary action for the common good. It is a tradition of giving and sharing that is primary to the quality of life. To assure that philanthropy merits the respect and trust of the general public, and that donors and prospective donors can have full confidence in the not-for-profit organizations and causes they are asked to support, we declare that all donors have these rights:
I. To be informed of the organization's mission, of the way the organization intends to use donated resources, and of its capacity to use donations effectively for their intended purposes.
II. To be informed of the identity of those serving on the organization's governing board, and to expect the board to exercise prudent judgment in its stewardship responsibilities.
III. To have access to the organization's most recent financial statements.
IV. To be assured their gifts will be used for the purposes for which they were given.
V. To receive appropriate acknowledgement and recognition.
VI. To be assured that information about their donation is handled with respect and with confidentiality to the extent provided by law.
VII. To expect that all relationships with individuals representing organizations of interest to the donor will be professional in nature.
VIII. To be informed whether those seeking donations are volunteers, employees of the organization or hired solicitors.
IX. To have the opportunity for their names to be deleted from mailing lists that an organization may intend to share.
X. To feel free to ask questions when making a donation and to receive prompt, truthful and forthright answers.
2017, Association of Fundraising Professionals (AFP), all rights reserved. Reprinted with permission from the Association of Fundraising Professionals.
Dear Capuchin Soup Kitchen Supporter,
Although I'm not a parent, I have loads of respect for those who raise, teach, and coach young people in our society.
Helping mentor and support kids who are at risk is just another aspect the ministries of the Capuchin Soup Kitchen in which you so generously share. As you well know, we're much more than just "soup."
Hope is also on the menu here. I'd like to introduce you to a very special woman who has been serving up "hope" to neighborhood kids for nearly twenty years now.
Summer Peace Camp Video
Support the Rosa Parks Children's Program
Sister Nancyann Turner is member of the Dominican Sisters of Adrian, Michigan. Dominicans are considered "cousins" to the Capuchin Franciscans because Saint Dominic and Saint Francis founded their communities about the same time in the thirteenth century to walk with and serve people facing poverty and difficult circumstances.
Sister Nancyann became a part of the Capuchin Soup Kitchen staff in 1999 with a burning desire to walk with people who were struggling and to be the change she wanted to see in the city. She came with many years of teaching experience and as a certified art therapist.
She proposed that we open our Capuchin Soup Kitchen Conner site doors to neighborhood boys and girls. She envisioned a safe gathering place where they could play, learn and be nurtured without fear of the city violence and poverty that surrounded them.
This was the was the start of the Rosa Parks Children's Program. A space was prepared, volunteers came forward, but no kids.
That's when Sister Nancyann showed her fighting spirit and holy determination. She began walking the east-side neighborhood near the soup kitchen. She knocked on doors, and met young, single mothers and older struggling grandmothers raising little ones on next to no money.
Sister Nancyann asked the key question, "What do your kids need?"
And from their heartfelt responses, she began to build The Rosa Parks Children's program. A children's library began to be formed. Programs for tutoring and art therapy were set up.
Art Therapy programs were developed to help children and youth deal with emotional problems and build self-esteem. All the programs help the children expand their creativity. Our tutoring activities support the kids' academic progress, and the conflict resolution training encourages the kids to deal with adversity in creative and peaceful ways.
Here every child knows they are loved, accepted and brimming with potential for success. Here every child is safe, respected and cherished.
Will you please support the Capuchin Soup Kitchen, and especially these children who share in our Rosa Parks Children's Program?
Sister Nancyann has great plans for them this summer, including a three week "Peace Camp", a young leadership camp and many fun and educational field trips.
The children's Peace Garden continues throughout the summer. These city kids love playing gardener and even farmer, helping to sow seeds and nurture them to full growth and maturity.
Their garden is a wonderful metaphor for Rosa Parks Children's Program, I think. All of us can help nurture children, especially those who have been planted in difficult situations through no fault of their own.
It takes a loving community to protect, nurture and raise up healthy, kind and giving children, especially kids being raised in poverty and sometimes in fear. This ministry is a great sign of hope for the future of our community. I can see that in the smiling faces of dozens of children welcomed here day after day by Sister Nancyann and her team.
Will you join Sister Nancyann, the rest of our dedicated staff and volunteers, and give generously to help support our kids?
Together, through our ministries like The Rosa Parks Children's Program, we are feeding young bodies, nourishing souls, and strengthening communities in the heart of this great city.
For the many kids, along with their parents, who participate in our Rosa Parks Children's program, this can give them the tools to reach their potential and support their dreams.
I'm so happy to introduce you to Sr. Nancyann and the great program she helped begin and has sustained for nearly twenty years.
I'm deeply grateful for your time and may God's peace and blessings be with you,
Br. Jerry Johnson, OFM Cap. Director
Each and every gift, no matter the size, will support the kids with their dreams and goals! Thank you for your kindness!
Support the Rosa Parks Children's Program
Thank you so very much for your interest in hosting an event benefiting the Capuchins. We will contact you within three business days regarding your event request.
11th Annual Bocce with the Brothers
Friday, March 24, 2023 (5:30 PM - 10:00 PM)
The 11th annual Bocce with the Brothers fundraiser is coming up Friday, March 24, 2022. Sponsored by Shelving Inc., 100 percent of the proceeds will directly benefit the local Capuchin Soup Kitchen programs.
Read More...
&nbsp